06 Jun 2017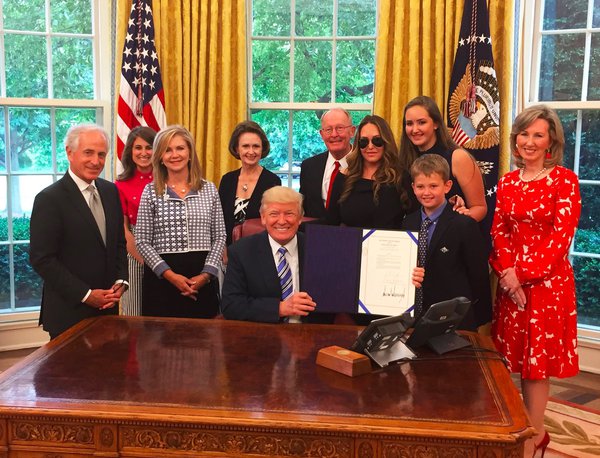 Just yesterday we called out Barbara Comstock for skipping two votes to get her picture taken with a sexual predator whom she had previously denounced as "vile" and "disgusting." As incredible as that story was, you will never believe the plot twist that comes next.
While everyone was reading our news story, Comstock was at the White House, once again getting her picture taken with Trump! Why is she rushing back to Trump's office again to have her photo taken with someone she finds to be "vile" and "disgusting"?
Comstock was there for a signing ceremony for a bill that names a courthouse after Fred Thompson. Naming federal buildings after dead people is a fairly routine thing in Congress. In fact Barbara Comstock skipped two such votes last year.
So what do Fred Thompson and Barbara Comstock have in common? They were both actively involved in defending Scooter Libby. Libby was convicted in 2007 for lying about his role in the leak of an undercover CIA agent's identity.
Comstock also had a financial relationship with Thompson. When Thompson was running for President his PAC paid Comstock's firm $30,000 in advertising fees. He also held a major fundraiser for her when she was running for House Delegate.
It seems that Comstock simply cannot resist the allure of yet another photo op with Trump in the Oval Office.
Is there some sort of rehab for people who are addicted to photo ops? Asking for a "friend". #VA10 #QueenOfPhotoOps

— Dump Comstock (@dumpcomstock) June 7, 2017