26 Jun 2018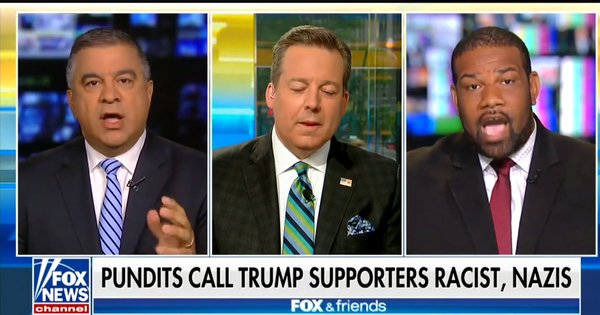 Barbara Comstock's good friend, and former deputy campaign manager for Donald Trump, was suspended yesterday by Fox News for telling a black guest that he was "out of his cotton-picking mind."
On Fox News, David Bossie, former Trump Deputy Campaign Manager, telling a black panelist that he's "out of his cotton-picking mind." pic.twitter.com/wpoqHKbINw

— Yashar Ali 🐘 (@yashar) June 24, 2018
Apparently there is such a thing as too much racism for Fox News who immediately condemned the remarks, and then suspended Bossie the next day.
Barbara Comstock, however, was not the least bit concerned, and still proudly features Bossie's endorsement on her campaign website.
Comstock and Bossie have a long history, which goes way back into the 90's when they were both obsessively investigating the Clintons. Just as Bossie was too racist for Fox News, he was apparently even too anti-Clinton for Dan Burton's committee, which he was forced to leave for being "too aggressive."
Bossie was also featured in a recent Washington Post story defending Barbara Comstock from suggestions that she should just retire already.
"[Trump] is the hardest-working man I've ever been around," Bossie said. "Barbara Comstock is the hardest-working woman I've ever been around."
So there you have it, Barbara Comstock works just as hard as the guy who has played golf 113 times in 594 days. You heard it straight from his racist mouth.
We saved the best Bossie-Comstock story for last. Back in the 90's the two of them (along with Barbara Olson), trespassed inside a gated residential community for the purposes of peering into the windows of a White House official's private home. in the hopes of catching him doing whatever it was their feverish minds had convinced them he was up to.
"A short time later, Republican lawyers Comstock, Olson, and other congressional investigators, including David Bossie, and Whitewater investigator Christopher Bartomolucci, pulled up outside my house in an SUV. Though I wasn't sure what the group hoped to accomplish—they were visibly frustrated with their inability so far to incriminate Watkins—I went along for the ride. Olson explained that Congressman Sonny Bono had cleared us into the private, gated community where both Bono and Watkins lived, in the northwest section of Georgetown. When we arrived at our destination, Olson giddily leapt from the truck, trespassed onto Watkins's property, and hopped down a steep cliff that abutted his home. Barbara peered into Watkins's windows, where she observed him . . . watching television. No crime there."