16 Jul 2018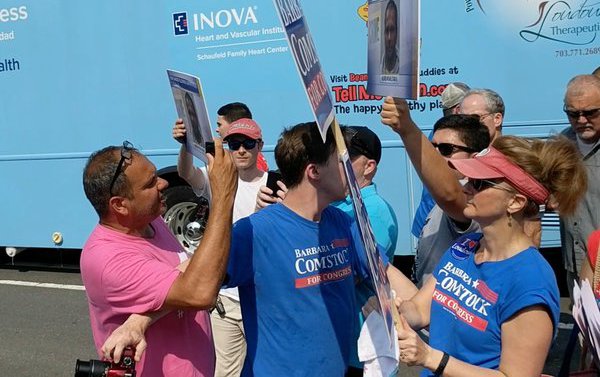 Everyone knows about Barbara Comstock's aversion to town halls. It's been over 1,200 days since she was first elected to public office, and she has still not held a single in-person town hall. Comstock has become so unhinged by attempts to film her that she complained bitterly on Facebook last week and made several misleading statements.
We'll set the record straight about her false and misleading statements in that post - but first, let's detail her long and embarrassing history of trying to prevent people from filming her.
Here's the reality - Comstock simply doesn't want anyone filming her. She's so unhinged by any attempt to do so, that she is now complaining to her imbecilic supporters instead of focusing on her losing campaign.
Comstock's aversion to being filmed is well documented by the Washington Post and other outlets. A 2014 story by the Post, details an incident where Comstock interrupts an interaction with a constituent when she notices another woman recording the conversation on her phone:
"Do you have someone filming?" Comstock asks with concern. After a moment's hesi­ta­tion, she continues her answer to the question, if a little more carefully now.
Of course there was the time that she walked away from a post debate interview:
And then there was the time she jumped into a moving parade in order to avoid questions on camera:
The only thing Comstock hates worse than being filmed by constituents or the media, is when it's being done by a paid political tracker. Political trackers have been around for over a decade and they are specifically trained not to get into physical altercations.
The Jennifer Wexton campaign has not hired political trackers nor made any reported expenditures to American Bridge. Barbara Comstock's campaign, however, has paid America Rising PAC at least $13,250 this cycle for opposition research and political tracking. America Rising is the leading Republican tracking firm that is "filming every single thing that key Democratic candidates say".
Barbara Comstock may pay tracking firms to film her opponents, but that doesn't mean she's going to sit there and take it when a liberal PAC tries to do the same thing to her.
Barbara Comstock is so scared of people filming her, she uses paid campaign staff to try and physically intimidate anyone who tries to do so. Watch this male staffer practically standing on top of this young woman who is trying to film Comstock. He is frantically waving a fan in front of her camera in order to act like as big of an asshole as possible.
The best part of the video is when the staffers realize that there is another person filming their antics. That's when Barbara Comstock's mom jumps into the mix! That's right, you'll see Comstock's mom pulling the same nonsense at the 1:08 mark in the above video.
Last week, Comstock falsely stated that the "Democrats" hired an individual by the name of Mike Stark. Stark was not hired by the Democratic Party nor any organization with an official affiliation with the Democratic Party. He works for American Bridge which is a completely independent Super PAC run by David Brock. Comstock knows this because she used to work with David Brock back when he was doing opposition research for the Republicans.
Comstock also referenced Stark's "previous clashes with police" and posted his mugshot from that arrest on her Facebook page. Comstock neglects to mention the following:
Stark was working as a journalist when he was arrested
He was arrested for trying to film Comstock's pal Ed Gillespie during his campaign for governor
Stark has never been violent at any time with police - in fact the video of police roughing him up for no good reason sparked a national outrage
Stark was acquitted of resisting arrest - he was convicted of "disorderly conduct" for using profanity in a public space
Comstock also claims that Stark assaulted a female staffer on the Hill but provides no links to the arrest and no video evidence that such an incident actually occurred. We could not find any evidence that Stark has ever been convicted of a violent offense.
Take a look at these images of Stark (in pink) attempting to film Comstock during a July 4th parade in Leesburg. We're not sure what triggered Comstock's bizarre Facebook post but if anyone should be called out on their aggressive behavior it's Barbara Comstock's staff.
@BarbaraComstock now hiring people to stand around and make sure nobody films her #CowardlyComstock #VA10 pic.twitter.com/K9Rf0jJYa5

— DumpComstock.com (@dumpcomstock) July 4, 2018
Speaking of evidence of assault, you do realize that it's illegal to put your hands on people like this Comstock staffer is doing here right? pic.twitter.com/1pF6qwkIel

— DumpComstock.com (@dumpcomstock) July 5, 2018
This person with the @BarbaraConstock campaign has been imploring the police to please, please do whatever they can to protect @BarbaraComstock from questions about pre-existing conditions, guns, Corey Stewart, etc. It's been going on for at least 15 minutes. pic.twitter.com/PedlYQU68F

— mike_stark (@mike_stark) July 5, 2018
Meanwhile @BarbaraComstock spent it surrounded by bodyguards. SAD! pic.twitter.com/QefShNTbMw

— DumpComstock.com (@dumpcomstock) July 5, 2018
She also had three more bodyguards keeping constituents away compared to Wexton's zero. So she's definitely going to win! pic.twitter.com/jopDptYh4t

— DumpComstock.com (@dumpcomstock) July 5, 2018