02 Feb 2018
Good news everybody! We're pleased to offer this special opportunity for you to express your "gratitude" for all of the great "representation" that Barbara Comstock has been providing over the years.
We've come up with a special Valentine's Day post card that you can send to her office. She blocked us on Twitter for holding up a "Dump Comstock" sign at one of her events, so she will definitely be excited to receive hundreds of valentines with that same logo delivered to her office.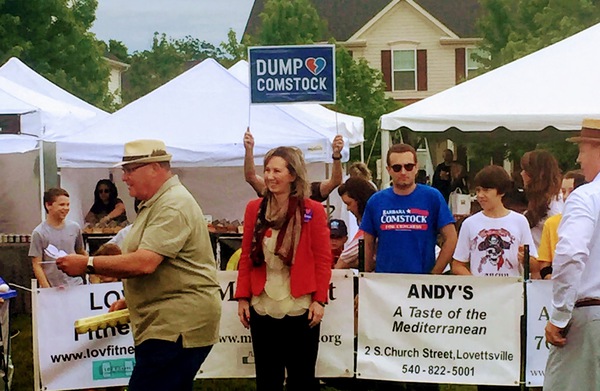 Who Should Send a Valentine?

All freedom loving Americans who oppose Trump and his GOP cronies. If you live in her district just be sure to mention that in your custom message. If you live outside her district, be sure to mention that you will still be donating to her opponent and volunteering to help her opponent win.
What Will It Say?

That's up to you! Write your own custom message and choose whether to use your full name or just your first name. We'll print it out and send it for you!
Does it Cost Anything?

We're asking for a $1 donation to cover our costs. If you can't swing $1 - or if you want your valentine to have that personal touch - you can print out the postcard images for the front and back at home.
We'll send your valentine to her D.C. office in the mail.
As a special bonus, we'll also print a second copy of your valentine and hand deliver it to her office along with all of the others!